Research article
Open Access
Open Peer Review
This article has Open Peer Review reports available.
Conceptualizing performance of nursing care as a prerequisite for better measurement: a systematic and interpretive review
Received: 15 July 2012
Accepted: 7 February 2013
Published: 7 March 2013
Abstract
Background
Despite the critical role of nursing care in determining high-performing healthcare delivery, performance science in this area is still at an early stage of development and nursing's contribution most often remains invisible to policy-makers and managers. The objectives of this study were: 1) to develop a theoretically based framework to conceptualize nursing care performance; 2) to analyze how the different components of the framework have been operationalized in the literature; and 3) to develop a pool of indicators sensitive to various aspects of nursing care that can be used as a basis for designing a performance measurement system.
Methods
We carried out a systematic review of published literature across three databases (MEDLINE, EMBASE and CINAHL), focusing on literature between 1990 and 2008. Screening of 2,103 papers resulted in final selection of 101 papers. A detailed template was used to extract the data. For the analysis, we used the method of interpretive synthesis, focusing first on 31 papers with theoretical or conceptual frameworks; the remaining 70 articles were used to strengthen and consolidate the findings.
Results
Current conceptualizations of nursing care performance mostly reflect a system perspective that builds on system theory, Donabedian's earlier works on healthcare organization, and Parsons' theory of social action. Drawing on these foundational works and the evidence collated, the Nursing Care Performance Framework (NCPF) we developed conceptualizes nursing care performance as resulting from three nursing subsystems that operate together to achieve three key functions: (1) acquiring, deploying and maintaining nursing resources, (2) transforming nursing resources into nursing services, and (3) producing changes in patients' conditions. Based on the literature review, these three functions are operationalized through 14 dimensions that cover 51 variables. The NCPF not only specifies core aspects of nursing performance, it also provides decision-makers with a conceptual tool to serve as a common ground from which to define performance, devise a common and balanced set of performance indicators for a given sector of nursing care, and derive benchmarks for this sector.
Conclusions
The NCPF provides a comprehensive, integrated and theoretically based model that allows performance evaluation of both the overall nursing system and its subsystems. Such an approach widens the view of nursing performance to embrace a multidimensional perspective that encompasses the diverse aspects of nursing care.
Keywords
Performance measurementNursing careSystems theoryQuality of careNursing structureNursing processesNursing sensitive outcomesSystematic review.
Background
Nurses represent the largest occupational group in the healthcare workforce, providing the most care at all levels of the care continuum and accounting for a significant proportion of hospitals' operating costs [1, 2]. Yet nursing's contribution most often remains virtually invisible to policy-makers and healthcare managers, and many analysts consider it undervalued and understudied [3, 4]. Symptomatic of the situation, data considered sensitive to nursing care are, in most cases, not represented in databases that are routinely examined for performance analysis in healthcare organizations and health policy decisions [5, 6]. The causes attributed to these symptoms include poor conceptualization of nursing performance, inadequate measures of nursing contribution, inadequate information systems to capture and manipulate nursing performance data, and absence of a standardized language [7, 8].
Concerns about the shortage of nurses and its potential adverse effect on patient safety, coupled with mounting public expectations regarding the value of services consumed, have created a sense of urgency about the need for monitoring performance of nursing services [9]. In the current context of health service reforms, driven partly by resource constraints and consumer pressures, increasing demands are being placed on nursing administrators and nursing care providers. They must ensure the performance of nursing services, give a more comprehensive and accurate picture of what they do, and demonstrate the value and benefits of their services in line with established objectives and standards [10, 11]. This renewed interest has resulted in an accelerated expansion of a range of initiatives within and outside the nursing profession to make explicit those aspects of care outcomes directly attributable to nursing practice. Specifically, indicators to quantify nursing's contribution to healthcare performance have been considered in several countries by influential organizations such as the Agency for Healthcare Research and Quality and the National Quality Forum in the United States, the Ontario Hospital Association in Canada, and the Council on Health Care Standards in Australia [12, 13].
Despite such recent efforts, the research base on performance measurement in the area of nursing care is still considered somewhat embryonic [14], and no common theory-driven schema guides the nursing discipline, the regulatory agencies and the provider organizations in their efforts to define, organize and operationalize the dimensions of nursing care performance [15]. There are many fragmented pieces of knowledge, but what is critically missing is a comprehensive framework in which to fit the pieces together and that can guide the implementation of performance assessment activities in nursing. In many cases, the terminology of performance measurement can itself be confusing and is characterized by a wide array of terms and concepts that include productivity, outcomes, effectiveness, efficiency, quality, etc. As there is no agreed-upon definition, performance measurement systems are also conceptualized in multiple ways [16].
The overall aim of this research was to draw on the most recent developments in conceptual modelling to help build a common orientation on how to capture nursing care performance. More specifically, the objectives of the research were: 1) to develop a theoretically based framework to conceptualize nursing care performance; 2) to analyze how the different components of the framework have been operationalized in the literature; and 3) to develop a pool of indicators sensitive to various aspects of nursing care that can be used as a basis for designing a performance measurement system.
While there is already a substantial amount of literature on the topic of healthcare performance, the focus of our study was on performance metrics potentially sensitive to nursing care. Although other reviews are available in the literature [17, 18], none have been as exhaustive and none have systematically analyzed the existing models using a structured template, as we did. Furthermore, while the notions of quality and performance are frequently used interchangeably, our study acknowledges both their conceptual linkages and differences. A system can only be said to be performing if it delivers high quality interventions, care or services [19]. However, performance and quality are not necessarily identical and interchangeable concepts. A widely accepted definition of quality proposed by the Institute of Medicine conceptualizes quality as the degree to which health services for individuals and populations are consistent with current professional knowledge and increase the likelihood of desired health outcomes [20]. From this perspective, quality is at best only a proxy of healthcare performance, which is understood as a much broader concept. To be consistent with developments in contemporary literature, the notion of performance in this study is embedded in a general vision of key functions that an organizational entity must fulfill in a given environment. It refers to the ability of a health unit, organization, or system to perform its diverse functions most effectively and efficiently and to ensure the coordination and equilibrium among these functions needed to achieve its goals. From this perspective, nursing care performance can be measured based on those attributes or dimensions related to the functioning of organizational entities involved in nursing care provision. Those dimensions are not necessarily direct measures of quality, but rather, they cover what an organization does to provide nursing care, how it does it in relation to articulated goals and functions, and the resulting outcomes.
This article presents the Nursing Care Performance Framework (NCPF), describes its key components and identifies indicators related to each component. This NCPF will provide policy-makers and managers with an effective tool to structure performance evaluation systems that are consistent with their overall goals. This framework will widen the view of nursing performance to encompass the diverse aspects of nursing care.
Methods
To achieve the above-mentioned objectives, our research built upon developments in conceptual modelling and advances in systematic review methods as applied to organizational research [
21
]. Our approach drew on explicit, systematic and reproducible methodology to locate, select and appraise the available literature and to extract and analyze the relevant data [
22
,
23
]. It can be defined as an interpretive synthesis. It is interpretive in the sense that the focus was not on simply aggregating or summarizing data reported in the literature but rather drawing on a large and complex body of evidence to build a conceptual framework grounded in the studies included in the review [
24
,
25
]. As summarized in Figure
1
, the review followed the main phases that have been systematized in previous works: literature searches, screenings and appraisals, data extraction, and analysis and interpretative synthesis [
21
,
22
].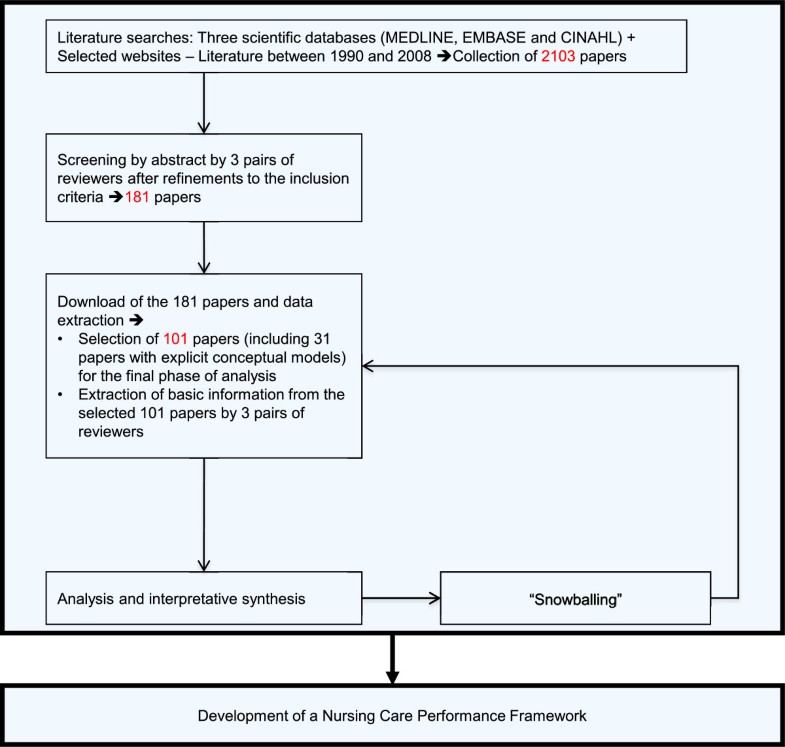 Literature search
The search for relevant literature was made across three databases. MEDLINE, EMBASE and CINAHL were selected, based on preliminary tests applied to a broader range of databases. Other potential sources, such as the Cochrane and Francis Costello libraries, were rejected after preliminary tests found them unsatisfactory, as they generated hundreds of irrelevant items. After several iterations and advice from a professional librarian, we adopted key words and applied them to the three selected databases. The key words were nursing care performance, nursing performance, nursing-sensitive performance measurement, nursing-sensitive measures, and quality indicators and nursing care. The robustness of the strategy was confirmed by comparison with a predetermined list of key articles referenced in a recent review article [17], all of which were captured by the search when they were clearly related to performance in the area of nursing care. After removal of duplicates, the papers collated at this phase totalled 2,103. The search was limited to literature between 1990 and 2008, to focus on most recent developments in this area. However, reference chaining was used to uncover additional key articles published before this period.
Screening and appraisal
Our six researchers were paired into three teams and the articles' abstracts split among the teams. Inclusion criteria were tested on a sample of 15 abstracts. Each abstract was systematically reviewed independently by two researchers based on criteria of: 1) relevance (clear focus on the theme of performance; clear focus on the domain of nursing care); 2) potential contribution to the conceptualization or measurement of performance (development of a theoretical model, elaboration of performance measures, performance evaluation, empirical analysis); and 3) use of explicit and valid methods. For each case, a decision was taken to either exclude the paper or select it for the next step. When there was disagreement, the two researchers met to discuss their views and find common ground. Letters, comments, editorials and anecdotal papers were systematically excluded. The criterion on methodological quality was intentionally broad for this initial screening. At this step, we aimed to include as many relevant papers as possible that met basic methodological standards or were likely to contribute at the level of concepts, while excluding studies that were irrelevant or fatally flawed. One hundred and eighty-one papers passed this screening and advanced to the next step.
Final screening and data extraction
The 181 papers were downloaded. We designed a data extraction template that was intended, first, to confirm the relevance of each paper (clear focus on performance conceptualization and/or measurement in the domain of nursing care) and its scientific quality (theoretical foundation, design, sampling, data collection, explicit criteria of validity) and then to extract further data. Again, the six researchers were grouped into teams of two. We pretested the data extraction tool on 45 articles split among the three teams, refined the tool, and then applied it to the entire sampling. In-depth examination of each article and data extraction were first completed by one member of a team and then validated by the other. It was still possible at this step to exclude a paper if it was deemed irrelevant or methodologically flawed. Again, when there was disagreement, the two researchers met to discuss their views and find common ground. Of the 181 articles, only 101 merited complete data extraction and analysis.
Information extracted from all the 101 papers included country, type of study, appropriate criteria of validity based on the type of study (ex: representative sampling, data saturation), type of setting, study focus (development of framework, development of indicators, empirical analysis of links between variables) and a list of performance indicators (variables or markers proposed or used to measure performance). The main context of interest was acute care for 65% of the papers, long-term care for 27% and primary care for 8%. This information was supplemented with grey literature, reference chaining and scanning of key journals specializing in performance issues. The three pairs of reviewers were also asked to flag papers with theoretical or conceptual frameworks; 31 such papers were identified on the basis of two criteria: 1) papers with an explicit framework that specified the dimensions of the concept of nursing care performance and/or how these dimensions can be operationalized; and 2) reviews that used a coherently organized structure to present the various aspects of nursing care performance.
Data analysis
Our approach to analyzing the data involved constructing a general interpretation grounded in the findings of separate studies and then integrating evidence from across studies into a coherent theoretical framework comprising a network of constructs [25, 26]. For this phase, the analysis focused first on the 31 papers with theoretical frameworks. Our approach was similar to that often undertaken in primary qualitative research. We began with detailed inspection of the papers, gradually identifying recurring variables used to measure performance. We then grouped these variables into different subdimensions and dimensions, constantly comparing the conceptual structures we were developing against the data in the papers and the models collated, and attempting to specify the relationships between the different variables, dimensions or subdimensions identified. The information extracted from the 70 other papers were incorporated in a second stage to strengthen and consolidate the findings drawn from the first 31 papers, confirm the performance indicators identified and their groupings into dimensions and subdimensions, look for any additional variable or dimension that would not have been captured in the models, and document the relationships between the variables identified. All team members were involved in this analysis and the continual dialogue between them helped to ensure a reflexive account of the processes followed all along the different steps.
Conclusions
Across the three subsystems, at least 51 variables, grouped into 14 dimensions, have been used to assess these subsystems' performance in achieving their functions. Cross-validation by examination of the 70 additional papers revealed no additional generic variables, but in some cases, specific indicators related to a specific clinical domain and linkages between those variables. Figure
3
summarizes the dimensions and indicators inventoried for the three subsystems, based on the review.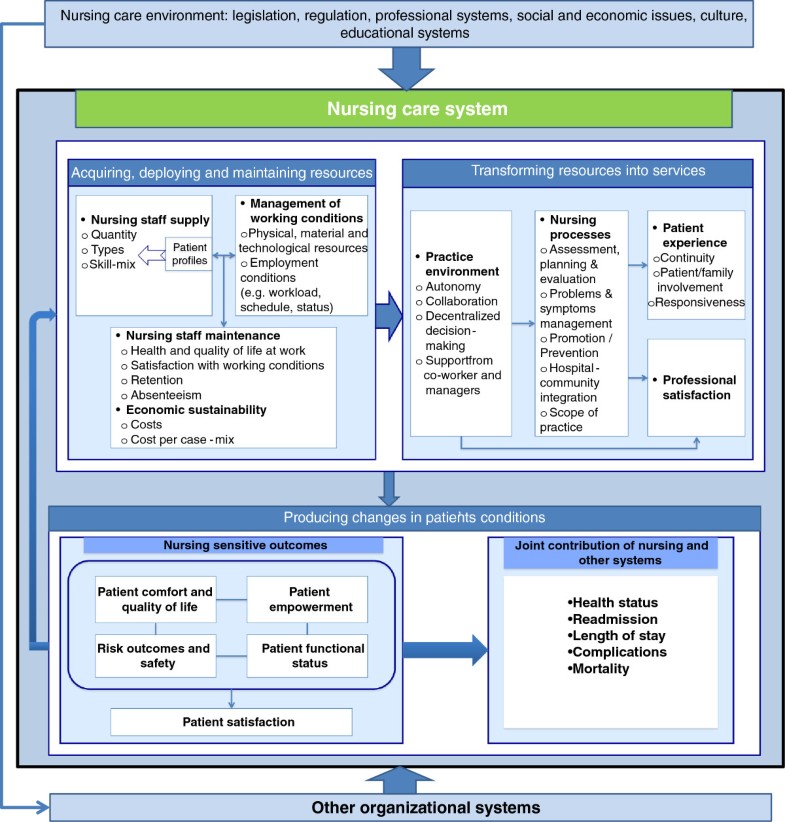 While all 51 variables are valid indicators that together represent the entire domain of nursing care performance as a construct, it can be seen in Tables 2, 3 and 4 that no individual model covers this entire domain. Rather, the different models show a variety of combinations of potential variables, reflecting the diversity of options for measuring nursing care. However, it is worth noting that, for nearly all the models, the scope of nursing care performance variables extends to more than one subsystem. In fact, 25 of the 31 models include indicators related to all three subsystems. Of the others, three focus on the second and third subsystems, one includes indicators related to the first and third subsystems, and two restrict their scope to outcome indicators.
From a policy perspective, this review clearly shows that a systems approach provides a useful and powerful tool to build a comprehensive framework for performance evaluation of both the overall nursing system and its subsystems. By incorporating the three functions described above, the NCPF offers an effective way to compile a complete picture of overall nursing care performance in any setting. It suggests a shift away from a narrow view of nursing performance to a broader perspective that encompasses more complex and more complete measures that take into account extended aspects of nursing activities. As such, the NCPF's systemic perspective may help avoid many of the dysfunctional strategies that often guide performance measurement [102–105]. One such dysfunctional strategy, often described as tunnel vision, consists of concentrating on certain limited areas of performance while neglecting other important but unmeasured areas. Another such strategy is to focus on short-term issues and proximal outcomes that are more easily detectable, to the exclusion of long-term issues or distal outcomes, which may be more difficult to measure or take some time to become measurable. A third strategy is to focus on indicators that are more readily available (in most cases, structural indicators) while overlooking more complex measures. Finally, another strategy is to focus on isolated indicators without taking into account the many interactions between the different components of the system. The NCPF may help mitigate these dysfunctions. This framework offers managers appropriate guidance to devise a set of performance indicators that encompasses all functional areas of the nursing system, covers its structural features as well as processes and outcomes, considers both short-term and long-term issues, and provides a cross-functional view of the nursing system and of the interdependence among its different functions. While many aspects of nursing care may remain irreducibly invisible to policy-makers, the NCPF brings attention to a wide array of definable and measurable dimensions that can be used to assess nursing contribution.
However, while such a framework reflects the multidimensionality of nursing care performance, it poses the serious challenge of selecting a core set of indicators from among multiple options. The challenge is to find a fair balance between a narrow, easily implemented set of indicators that provides a limited picture of performance and a larger, more complex, but unwieldy set of indicators that gives a more complete picture. Some authors warn that having an unbalanced and overabundant set of performance measures can be counterproductive. Pushing staff to deliver an unreasonable number of targets may increase stress, lower morale and ultimately compromise quality and performance [105]. The NCPF may be a useful tool to address such challenges.
However this study only achieves the first requirement in the development of any performance measurement system, which is to develop a robust conceptual framework within which performance indicators can be identified and developed. The foundations provided by the NCPF would ensure that all major areas of nursing care performance are covered by any measurement system, that priorities for developing new measures or instruments can be identified, and that data collection efforts on performance are not misdirected or duplicated.
While the NCPF provides a matrix of indicators that covers the key functions of the nursing system, this framework is based on the principle that performance measurement, by its dynamic nature, must address both short-term and long-term issues and be constantly adjusted to the challenges of particular domains at particular times [106–108]. While the framework specifies what core aspects should be measured to assess nursing care performance, it allows for variations in the combinations of indicators used to measure those aspects in different contexts of care. Many jurisdictions are faced with the challenge of developing a realistic set of performance indicators with sufficient breadth and depth to capture the spectrum of nursing care. The NCPF provides a common ground from which to define performance, decide what is meaningful and important with regard to each nursing subsystem or function, devise a common and balanced set of performance indicators for a given sector of nursing care, and derive benchmarks for this sector. In short, the challenge for policy-makers is to select from among the universe of variables incorporated into this framework to develop, for the different sectors of nursing, an optimal and common portfolio of performance indicators that do not simply focus on measuring what is available or easy to measure, but are consistent with their objectives, account for their context of care and are relevant to the needs of the key stakeholders. Such selection must be informed by explicit criteria for ensuring that performance indicators exhibit the key characteristics of acceptability, feasibility, reliability, sensitivity to change and validity [109–111].
Developing a performance measurement system for nursing care is also about collecting, computing and presenting performance data for the purposes of following up, monitoring and improving organizational and clinical performance. Many of the current efforts to use performance data tend to concentrate on collecting and organizing existing administrative information and disseminating it for limited management applications [112]. To use this framework to best advantage, policy-makers and managers must invest in more creative ways of collecting, analyzing and reporting the data, and ultimately applying that information to improve nursing performance. The diverse nature of the dimensions of nursing care performance, the multiple possible uses of the performance data, and the variety of audiences involved may necessitate a wide variety of data collection methods, analytical techniques and dissemination strategies to assemble this information, make it accessible to different groups, and ensure that positive action results from it.
Despite the contributions mentioned above, some limitations remain in this study. Although we used a highly elaborated and systematic protocol to conduct the review, the approach was challenged by the broad nature of the topic being reviewed. It required a breadth of search and a labour-intensive process that allowed us to identify a rich set of performance-related variables and linkages between them. However, the number of themes and issues to cover may have limited the depth of the review on specific aspects of performance measurement in nursing care. More in-depth complementary reviews will be needed to document specific dimensions or subdimensions of this framework or to compile more thorough evidence on the linkages identified between those dimensions. While the review revealed some indicators that are more prevalent in existing conceptual models or are supported by strong research evidence, it is premature to conclude those elements are more significant than others that have been the subject of less attention or research. This is an unfinished agenda that opens the door for extensive research programs. Further studies will be needed to assess the implementation of the NCPF in different contexts of nursing care, gain further insight into the linkages hypothesized in the framework, and compile more evidence on the indicators that are more sensitive to nursing and that address the needs of the key stakeholders involved in care. Finally, another limitation may be that, while our search focused on the performance literature, we may have overlooked some key dimensions that do not relate directly to performance but may be essential to ensure a system's performance.
Declarations
Acknowledgements
This study was funded by the Canadian Institutes of Health Research.
Authors' Affiliations
(1)
Faculty of Nursing, University of Montreal, Montreal, Canada
(2)
Department of Health Administration, Faculty of Medicine, University of Montreal, Montreal, Canada
Copyright
© Dubois et al; licensee BioMed Central Ltd. 2013
This article is published under license to BioMed Central Ltd. This is an Open Access article distributed under the terms of the Creative Commons Attribution License (http://creativecommons.org/licenses/by/2.0), which permits unrestricted use, distribution, and reproduction in any medium, provided the original work is properly cited.